Introducing INSTINCT. Not just another distortion. Not just another tone shaping engine.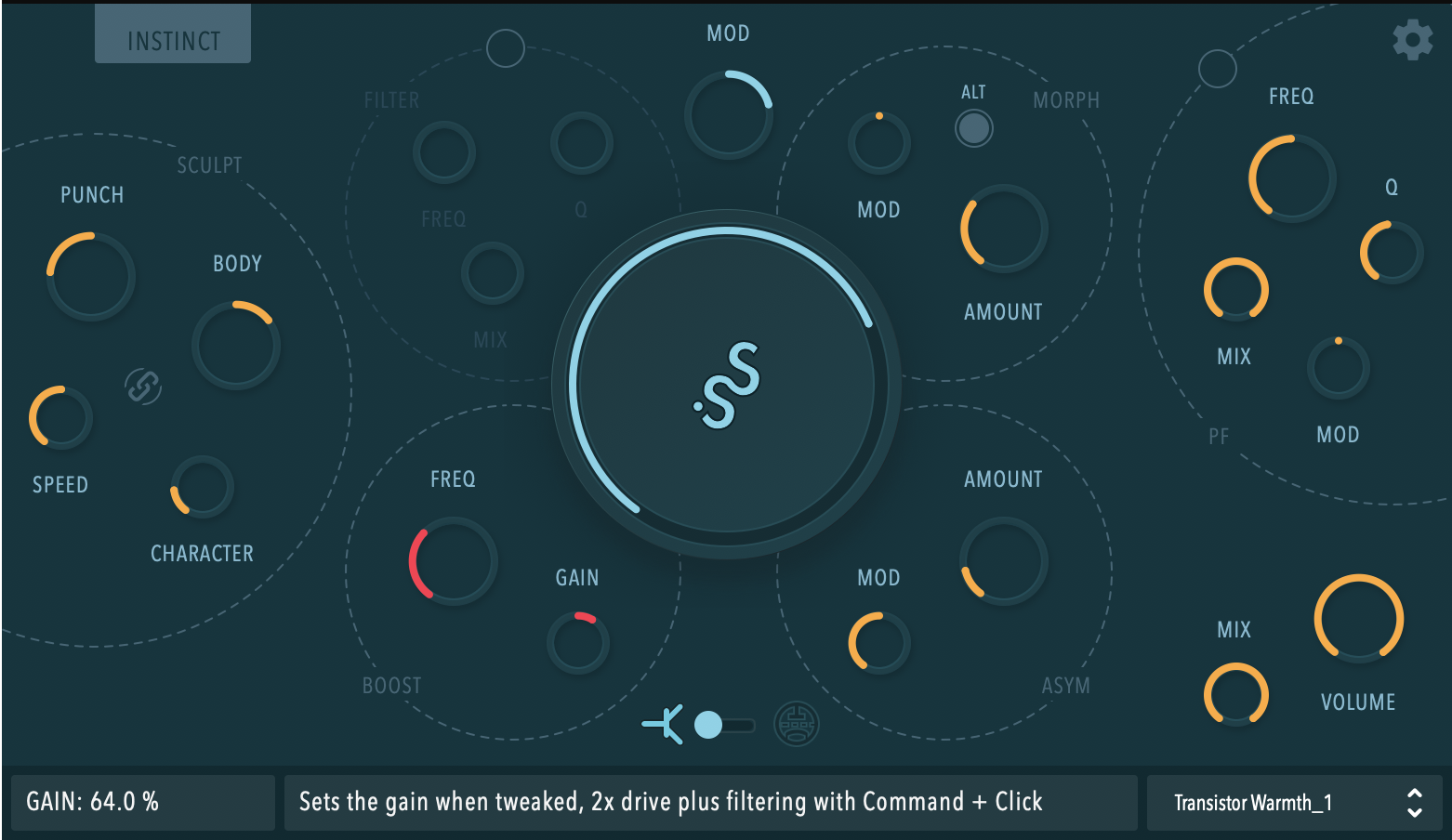 It is a sonic monster 👾 that can create new worlds from the sound you feed it with. Varying from smooth analog warmth or dynamics processing to total destruction, aggressiveness and alienation.
Featuring high quality resampling, warm to screaming filters, smooth to punchy transient shaping, versatile transistor and tube models, it's ambition is to be a protagonist in the arsenal of drive, dynamics and tone processing tools for sound designers, sound engineers, and music producers.
Standing on the shoulders of giants (GRANULIZER 2), we took everything that we learned from the whole interface language that we had created, and amplified it. INSTINCT is more organic, more vivid. We tried to give it a certain flowing aesthetic and break from our previous boxed sections.
This is a living organism waiting to be explored. In the center of it all stands the core and everything grows around it. You can decide which portions of it are taken into the flow of the sound and each decision gives you something totally different. The more time you invest into it, the more it gives you, because complexity is tucked away, and only available when you need it.
Here we see INSTICT when it is applied on drums.
DRIVE
The heart of the plugin is its switchable and versatile drive circuit with tube and transistor models, which can be doubled with the addition of a warm to screaming VA lowpass filter. Morph and Bias / Asym Sections provide with more freedom on tuning the guts of the plugin.
SCULPT
The breath of the plugin is the SCULPT module, a transient shaper with a smooth to punchy behavior that provides the modulation signal to the different plugin modules.
FILTER AND POST FILTER
The tone of the plugin is defined by the high quality "Drive" and "PF" VA resonant filters, giving warm analog low end color, or screaming resonant tones that can be further distorted by the next drive circuit.
Here we see INSTICT when it is applied on a guitar.
INSTINCT will be available on our website on the 24th of June. We're really excited to bring this to you. Stay tuned and feel free to reach out to us with any questions!

Tuesday, 11 June, 2019